NEWYDDION***NEWS***NEWYDDION
Police Officers serving with Gwent Police Arrested for Corruption
Mehefin 14 June 2005
5 Gwent Police Officers have been arrested on suspicion of offences of misconduct in public office and corruption.
These are very serious charges, and it is to be hoped that the case will be independently investigated as the so-called Independent Police Complaints Commission have lost the trust of the people having allowed, in the past, cases against the police to be discontinued due to alleged ill health of officers concerned, who have then been allowed to resign (to live off their pensions).
Resignation is not "the honourable thing to do". Ordinary people outside politics or the police are charged and heavily sentenced for alleged offences, even when they are innocent (for example the "Guildford 4" all of whom were known by the police to be innocent, one of them dying in prison from ill health).
It is time that the British Police and politicians' are held personally responsible for their actions, and dealt with accordingly. The whitewashing of corruption must be stopped.
IS CYMRU THE NEW BOTANY BAY?
It would be true to say that ASBO's (Anti-Social Behaviour Orders) are used extensively in England to clean up many cities, with drug dealers, thugs, various petty criminals, child abusers and sex offenders being evicted from their homes and rehoused in Cymru in the midst of our communities. Under English Law these criminals enjoy the protection of the police and the support of the Social Services
It should be remembered that any drug dealer who targets children is nothing less than a child abuser.
Why is it that neither the police nor politicians (at any level) in Cymru refuse to use these powers to return these criminals to their own country? Are they receiving bribes or any other form inducement/favour from the Westminster Government?
The head of the Special Anti-Drugs Squad and Chief of Dyfed Powys Police has stated in the past that (Albanian) drug dealers should be deported - one has to wonder whether this is a racist act as Mr Grange seems unwilling to target dealers of other nationalities.
In Mr Grange's own "Manor" (Powys) a well known drug dealer from Oxford (with previous convictions for dealing Class A drugs) has been given priority over local (Cymreig) homeless people for housing! This "dealer" has been known to "deal" to minors (children) and therefore is a child abuser. He has also made death threats to indigenous (Cymreig) people living in the area where he has been relocated.
His name is Rodney Wright .
NO COMMEMORATIVE STAMPS FOR EISTEDDFOD
Yet again the "Royal Mail" insult the Cymreig by refusing to issue stamps for what is arguably the most important cultural event in the calendar for Cymru. A potential customer asked at the post office situated on the Maes for "Eisteddfod commemoration stamps" was informed, curtly, that none were being issued and was offered instead a book of stamps showing the brood of the English/German/Greek Royal family (Saxe Coburg Goethe). When queried about this apparent oversight and insult a spokeswoman for "Royal Mail" said that it would have been "too expensive". The spokeswoman was further asked why there was at least no facility for franking the mail posted from the Maes with the words "Eisteddfod Genedlaethol Cymru" along with the date, stated that a corporate decision had been made and an "expensive" franking stamp had been made with the wording "Event", which was to be used at all events held in Wales. THIS EXPENSIVE ENGLISH FRANKING STAMP COST THE CASH STRAPPED ROYAL MAIL £80 (Eighty pounds Sterling).
NO COMMEMORATION STAMP PLANNED FOR GLYNDWR ANNIVERSARY
A Royal Mail spokeswoman on the Maes at the Eisteddfod at Meifod, Powys confirmed that there were no plans to issue a stamp commemorating Owain Glyndwr, neither are there plans for a commemorative franking stamp (perhaps spending another £80 would bankrupt this beleaguered "public" body).
Contact your AM/MP/MEP, local radio, local and national newspapers in Cymru drawing attention to this insult as well as writing to the Royal Mail
Royal Mail Customer Service, FREEPOST, Colnebank House, 30 St Peter's Street, COLCHESTER, CO1 1HY
and Postwatch
Consumer Services, Postwatch Head Office, 28 Grosvenor Gardens, LONDON, SW1W 0TT
email: info@postwatch.co.uk web: www.postwatch.co.uk .
BBC Cymru have expressed interest in having a debate about this issue - write to:
"Toro'r Post", Ystafell Newyddion, BBC, Brynmeirion, Bangor, Gwynedd, LL57 2BY , Ffôn: 01248 370880, Ffacs: 01248 352784
&nbsp
* * * * * * * * * * * *
Castell Amwythig/Shrewsbury Castle
On 17 May 2003, Welsh republicans raised "Y Ddraig Goch", St David's Flag and Glyndwr's flag on the walls of Castell Amwythig, in remembrance of its capture by Welsh troops under Llewellyn the Great in 1215.
The Flags, Welsh property, were taken down and confiscated by the English Police.
HONOURING A PATRIOT
On 29 March 2003, republican representatives from Cymru and Cernyw joined Dalys and Rhodri Cayo-Evans to honour the memory of Julian Cayo-Evans, patriot and former Commandant, Byddin Rhyddid Cymru, at Silian Church near Llanbedr Pont Steffan. Commandant Dennis Coslett addressed the gathering. Photomontage is copyright © Cayo-Evans.com 2003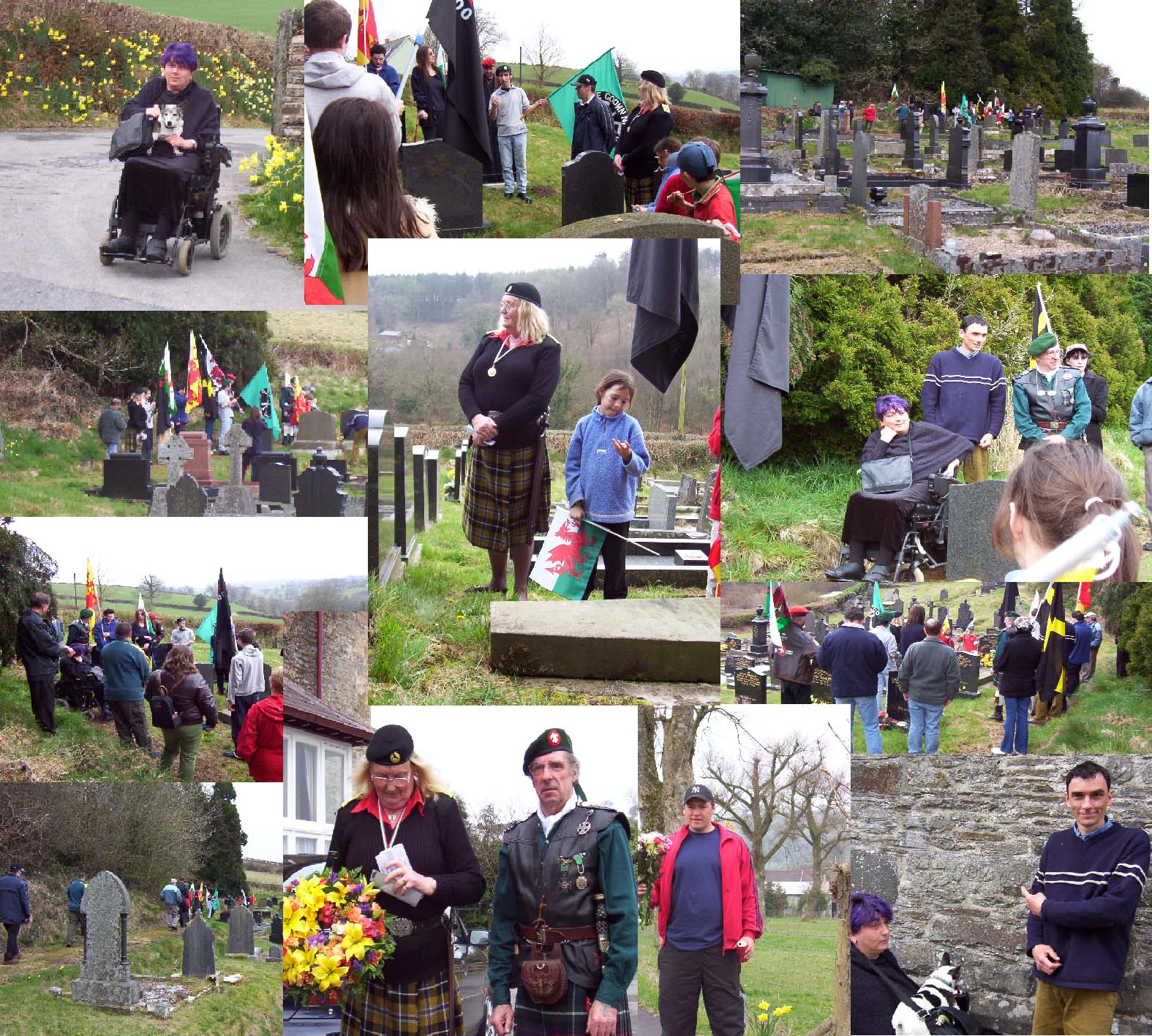 AS OF MEHEFIN 16 JUNE 2005 CYMRU'N GALW CLAIMS PEN YR ALLT - ALSO KNOWN AS "CRAIG RHYDDID" - FOR CYMRU IN THE NAME OF THE PEOPLE OF CYMRU

Terry Grange, chief constable of Dyfed Powys police force is reported in a newspaper as pinpointing Albanian drug dealers and pimps stating "If people are in this country (Cymru) and are caught dealing drugs they should be deported". Whilst in no way suggesting that Mr Grange, a public servant, is being hypocritical, it does seem odd that, in Powys, drug dealers, paedophiles and other criminals from England are being housed in the midst of our communities by the so called "Social Services", and certainly many are given full protection by the police, under English law - one supposes that this could be done without Mr Grange's knowledge, but it seems unlikely. Why are these criminals not deported back to England? Why in fact does Mr Grange allow them into our communities at all - this is hardly a case of "local police" safeguarding the local community!

Whilst acknowledging that there are immigrants who assimilate our language and culture and are welcome, the above examples serve as a sample of the abuse that Cymreig residents have had to put up with from irresponsible immigrants.

&nbsp

Racism is Alive and Well in Westminster

DAVID BLUNKETT, well known for the racist remark in one of his essays that all people in the so-called United Kingdom should speak English in the home has done it again.

This time suggesting that Welsh people are, at best, second class citizens in his remark that Colin Jackson, the renowned Welsh athlete, succeeded "Despite being Welsh", now tries to pass it off as a joke - let's face it, Blunkett, well known racist and supporter of the ethnic cleansing of Cymru is a joke - albeit not a funny one.

As Home Office Minister, he is ultimately responsible for the resettling of English drug dealers, thieves and sex offenders in the midst of our communities and has ensured that they are protected using the full force of English law, endangering the lives and well being of the most vulnerable persons in the areas of Cymru where these criminals have been rehoused.

&nbsp

MILLENIUM DOME MARK 2

Discontented that the taxpayers' money should only be wasted on a "white elephant" in England (the Millenium Dome), and not having the same opportunities for scamming "Y Werin" (the people) in Cymru, 6 so called "entrepeneurs" (a word often used to describe conmen or swindlers) have got together with Ski Trac of Melbourne, Australia and are planning to build a "snowdome" in the heart of the Snowdonia National Park. They hope to attract huge grants and subsidies from government (in other words taxpayers' money), which will ensure that they remain in profit at the cost of our land!

Should this come about, it will not only despoil an area of Outstanding Natural Beauty, but will also adversely affect the lives of the local Welsh speaking communities (by attracting in-migration), employment opportunities for local people and other tourist concerns in the area, which although small, provide employment, attract tourists and enhance the local economy without detrimental affect to the local environment.

Artists impressions of what the dome will look like, and further details can be seen at the Cymru Gyfan 1400 site.

&nbsp

NEWS FROM NEATH PORT TALBOT

Moel Ton Mawr

Regarding the windfarm at Moel Ton Mawr Mynydd Margam. The appeal is going to Public Inquiry and the Council are awaiting details of the date and venue before notifying people.

NOTE: The proposers are being given the time to put forward their methods of convincing the members of the Inquiry (by whatever method they wish to use) before the public have a chance to put their arguments forward. It would seem that DEMOCRACY has been entrusted to money-grabbing individuals/ conglomerates and self serving politicians.

Write individual letters to your Assembly member, MEP and local councillor ensuring that they understand that you are opposed to this proposal. Contact the office below by phone, fax and email to register your objections and ask for the address/phone and fax number of the department dealing with this case in order that you may DEMOCRATICALLY register your opinion.......

Please be aware Community Power Ltd have lodged an appeal to overturn the decision of Neath Port Talbot CBC in their refusal to allow the development of 11 wind power stations on Moel Ton Mawr Margam. The appeal was received by the Planning Inspectorate in November of last year but we are still waiting for official notification.

It is important that you contact your local councillor's at Neath Port Talbot CBC,and MEP's, in writing separately to each, to register your opposition to this project which the council, in line with the democratic wishes of the LOCAL people, have turned down. Support from all regions of Cymru are required! For those outside the area contact details for the Mayor are as follows:

Councillor C.Morgan, Mayor

Chief Executive's Directorate

Civic Centre

Port Talbot

SA13 1PJ

Telephone: 01639 763296 Fax: 01639 763297

email: Mayor Neath Port Talbot

&nbsp

NEW LABOUR MEP'S GLENYS KINNOCK AND ELUNED MORGAN TELL WELSH PUPILS - `WE DON'T UNDERSTAND THE WELSH PEOPLE WITH THEIR OBSESSION WITH THE WELSH LANGUAGE'

EURO-MPs Glenys Kinnock and Eluned Morgan got involved in a heated row with sixth-formers when they refused to debate with the pupils in Welsh.

A group of students from Ysgol Glantaf Welsh-medium comprehensive in Cardiff were visiting the two politicians in Brussels to learn about the workings of the European Parliament.

When someone asked Mrs Kinnock why she answered our questions in English, Eluned Morgan said `leave Glenys alone, you have an obsession with the Welsh language'.

Another pupil said "They told us 'we don't understand the Welsh people with their obsession with the Welsh language'."

BACK to first page.